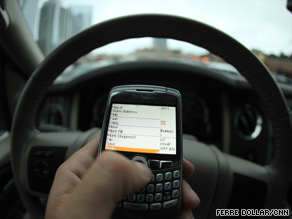 As of May 2010, 25 states have banned texting while driving due to the unprecedented danger caused by the distraction. According to the AAA Auto Club South, texting while driving causes reaction times to decline by 35 percent and steering control by 91 percent. By comparison, a British study performed by the Transport Research Laboratory concluded that the reaction time of people high on marijuana was lowered by 21 percent, and the reaction time of those who were intoxicated was lowered by 12 percent. Finally, the Federal Motor Carrier Safety Administration (FMCSA) reports that drivers distracted by texting are at least 20 times more likely to be involved in a crash than non-distracted drivers.
In addition to state laws prohibiting texting while driving, the Department of Transportation recently announced a federal ban on the practice for all drivers of large commercial vehicles, including tractor-trailers and buses. Violators of the law could face criminal and/or civil fines of up to $2,750.
Surprisingly, perhaps the biggest criticism of a texting while driving ban typically comes from police officers who argue that enforcement of such legislation is impossible. Their argument is valid, but not enough to prevent passing the legislation.
First, passing legislation would function as a deterrent by the threat of financial penalties and by raising public awareness of just how dangerous texting while driving can be.
Second, officers are able to deal with intoxicated drivers by recognizing the warning signs – swerving, significant changes of speed, and stopping/accelerating at inappropriate places – the same warning signs of an inattentive driver.
Currently, there is legislation pending in Oklahoma, Senate Bill 1908, which would ban all texting while driving on state streets or highways. This bill would also prohibit drivers under the age of 18 from talking on a cell phone while driving. As experienced Oklahoma personal injury lawyers, we have seen the devastating consequences of negligent and inattentive driving.
Despite the inherent difficulties in the enforcement of texting while driving legislation, this is an important issue that needed to be addressed by the Oklahoma legislature. If you or someone you know has been involved in an auto accident involving a negligent, inattentive driver, please contact the lawyers of Nix Law Group for a free consultation.
This video from the Today show pretty much sums up the dangerous we face on the higway each day due to negligent drivers, texting away on their cell phones.